Door Viewers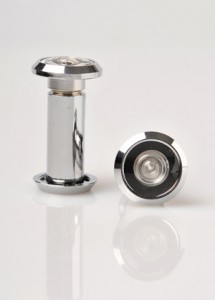 Description
Door viewer designed to reduce damage to door face during fitting.
Damage to a door face typically occurs as the hole for the viewer is drilled or when the viewer fixing tool slips out of the drive slots and scrapes the door or by over-tightening or changing atmospheric conditions causing the small diameter rear ring to be pulled into the door.
Proven to save manufacturing costs by reducing the amount of door rejects when viewers are fitted

Rear flange has greatly increased diameter such that it will not pull through the viewer hole

Drive slots are recessed so that the tightening tool does not slip out and gouge the door during fitting

Designed specifically for Europe's leading door manufacturer
Additional Info.
Manufactured from solid brass with standard finishes in polished brass and polished chrome

Viewers come as standard with a 180 degree view area; also available while a 200 degree viewer can be ordered specially.